NYT SAATAVILLA! – DJI – Ronin 2. Tehokkaampi, monipuolisempi ja älykkäämpi vakaaja kuvauksen ja video ammattilaisille.
Uudelleensuunniteltu 3-akselinen gimbaalisysteemi mahdollistaa ammattilaisten tallentaa laadukkaampaa vakaata materiaalia tilanteessa kuin tilanteessa.
DJI, maailman johtava luovan kamerateknologian kehittäjä, on tuonut markkinoille Ronin 2, 3-akselisen kameravakaajan, joka on uudelleensunniteltu antamaan kuvaajille ja tekijöille vapauden tallentaa minkä tahansa kuvittelemansa kohtauksen. Pohja rakentuu DJI:n käänteentekevälle gimbaaliteknologialle. Ronin 2:ssa on lisää tehoa ja vääntövoimaa kantamaan suurempia kameroita, ja on monipuolisempi käytettäväksi kaikissa tilanteissa ja sisältää lisää älykkkäitä toimintoja toteuttamaan ennennäkemättömiä kameranliikkeitä luovan vision realisoimiseksi.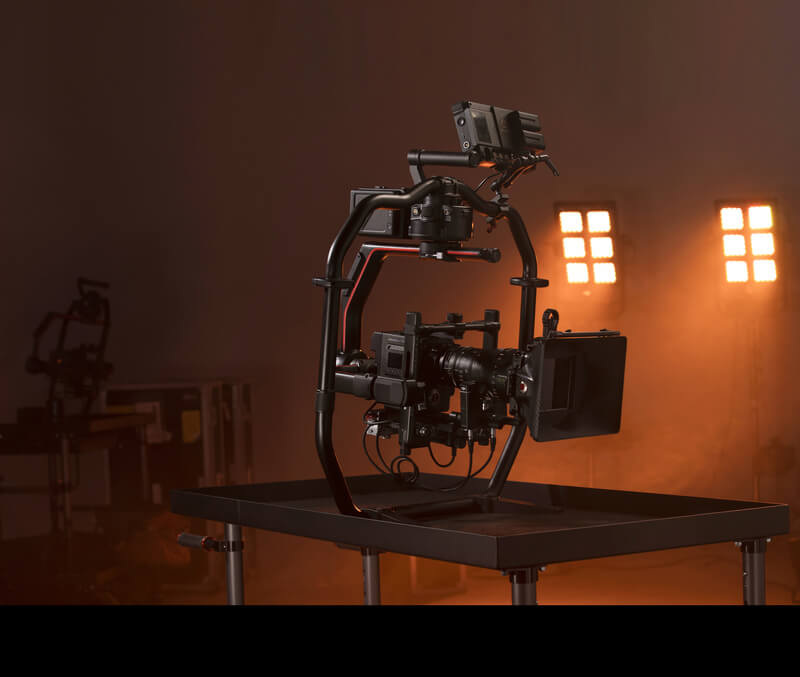 DJI Ronin 2 antaa kuvaajille täyden vapauden valita oikean kameran otokseen. Laajennettu kamerakehikko ja 50mm pidennettävät varret tukevat kaikkea DSLR:stä täysiin elokuvakameroihin ja linsseihin. Voimakkaat moottorit takaavat riittävän väännön käsittelemään jopa 13.6 kilogramman kuormia. Sisäänrakennetun GPS:n avustamana voimakkaat koodatut moottorit mahdollistavat Ronin 2:n kulkea jopa 120km/h nopeudessa taaten saman 0.02 sub-pikselin linjan tarkkuuden johon Roninin käyttäjät ovat tottuneet.
Monipuoliset kiinnitykset ja liikkeet
Uuden designin ja irrotettavan Gripin kanssa DJI Ronin 2 tuo kustomoitavan vakautuksen täydelle skaalalle kamerakiinnityksiä joihin ohjaajat luottavat. Tavallisesta käsinkannettavasta ja jib-kokoonpanoista Ready Rigeihin, sekä kaapelikameroista kulkuneuvoihin ja droneihin Ronin 2 tarjoaa luovaa joustavuutta. Uusi 2-akselinen toimintamoodi Steadicameihin kiinnittämistä varten tarjoaa uniikit ja luovat liikkeet jotka aiemmin olivat mahdottomia toteuttaa. Pikakiinnityslukituksella vakaajan saa helposti ja saumattomasti siirrettyä kohtauksesta seuraavaan, jolloin filmintekijät voivat vapaasti kokeilla kaikkia perspektiivejä stabiilisti ja hallitusti. Uudelleensuuniteltu kaksitaajuuksinen 2.4/5.8 GHz kauko-ohjain minimoi häiriöt mahdollistaen täyden kontrollin operaatiot etäohjauksessa ja kahden henkilön jopa 1.5 kilometrin säteellä.
Faster To Set Up and Easier To Use
Every detail of Ronin 2 has been improved for quick setup and easy operation. New axis locking levers and fine tuning knobs deliver faster and more precise balancing, while the Auto Tune Stability feature intelligently adjusts motor parameters for optimal use in seconds. A new integrated touch screen with 1,000 nits of brightness lets professionals directly configure the gimbal settings for on-the-fly adjustments and for full control of mounted RED cameras.
Redesigned Frame with Centralized Power
Ronin 2 features a redesigned carbon fiber monocoque style frame, providing the highest quality manufacturing ever in a handheld stabilized camera rig while making the platform durable, lightweight and easy to carry. New fold-away feet enable the operator to set the platform down during handheld filming without the need for a separate stand. A splash-proof enclosed motor design with internally routed power, SDI and data cabling enables worry-free shooting in the most demanding environments.
Integrated power and data ports make Ronin 2 a centralized system for cameras and all accessories without the need for multiple power systems. It features four 14.4-volt (8 amps total) ports near the camera cage, two 12.6-volt (4 amps total) ports near the pan motor, and one P-Tap 12.6-volt (4 amps) outlet on the battery mount.
Dual hot-swappable batteries provide continuous uptime without ever powering down. They are capable of operating simultaneously and independently to provide 2.5 hours of runtime to power the gimbal and a RED Dragon camera. Ronin 2 uses the same ultra-fast charging, high-capacity, self-heating batteries as the DJI Inspire 2, simplifying battery management and guaranteeing reliable power in extreme cold temperatures down to -4 degrees Fahrenheit. The battery system is fully detachable to provide a portable power supply for any 12-volt P-Tap powered camera or accessory.
Enhanced Intelligent Features
The completely updated DJI gimbal assistant mobile app provides a more intuitive and easier-to-use interface for bringing a cinematic vision to life. It includes new studio-oriented functions to easily capture complicated camera moves that once required specialized expertise or additional equipment.
The new Panorama mode automatically controls Ronin 2 to create still image panoramas that account for the camera sensor type and lens focal length as well as the user-defined overlap rate. Its new Timelapse mode can program multiple movements and camera actions at different points along a route, and view progress in real time. And the new CamAnchor mode lets operators quickly record a preferred gimbal orientation at particular locations, then revisit them with a simple touch as the camera moves from point to point.
The intelligent SmoothTrack system that provides stable images while the camera is on the move has been enhanced with an updated algorithm for keeping Ronin 2 in sync with the operator's movements. For every scenario encountered by a professional camera, Ronin 2 users can fine-tune how their rig responds to new movements along all three axes.
Lisää tuoteinformaatioita saatavilla osoitteessa: http://www.dji.com/ronin-2
Kolme esittelyvideota allaolevista linkeistä:
SPECS:
General
Built-In Functions
Operation Modes
-Underslung Mode
-Upright Mode
-Briefcase Mode
-Handheld, Car Mount, Aerial, Tripod, & Steadicam Mode
Built-in, independent IMU module
DJI Advanced 32-Bit ARM Processor
DJI Specialized Gimbal Drive Motors with Encoders
Dual Battery System
Bluetooth Module
D-Bus Receiver Supported
2.4 GHz/5.8 GHz Receiver
Temperature Sensors
Built-in Touch Panel
Built-in GPS
USB Type-C Connection
Power and Video Signal through Slip Ring
Mechanical & electrical characteristics
Working Current
Static current: 300 mA (@22.8 V)
Dynamic current: 500 mA (@22.8 V)
Locked motor current: Max 15 A (@22.8 V)
Run Time
8 hours
2.5 hours (when powering gimbal, camera and accessories at the same time)
Operating Temperature
-4°F ~ 122°F (-20°C ~ 50°C)
Weight
Including handle bar: 12 lb (5.5 kg)
Excluding handle bar: 9 lb (4.2 kg)
Gimbal Dimensions
Excluding handle bar: 350 mm (W) x 416 mm (D) x 530 mm (H)
Including handle bar: 630 mm (W) x 416 mm (D) x 720 mm (H)
Peripheral
Camera Tray Dimensions
Maximum depth from the center of gravity on camera base plate: 245 mm
Maximum height measured from top of the camera base plate: 165 mm
Maximum width: 180 mm
Accessory Power Connections
14.4 V x 4 Camera Cage (Combined 8 A), 12.6 V x 2 Pan Motor (Combined 4 A), 12.6 V x1 P-Tap (8 A)
GCU Input Power
Intelligent Battery: 4280 mAh-22.8 V
Connections
2.4 GHz/5.8 GHz Remote Control, Bluetooth 4.0, USB Type-C
PC Assistant Software Requirements
Windows 7 or above; Mac OS X 10.11 or above
Mobile Assistant Software Requirements
iOS 9 or above; Android 4.4 or above
Working Performance
Load Weight (Reference Value)
30 lbs (13.6 kg)
Angular Vibration Range
± 0.02°
Maximum Controlled Rotation Speed
Pan axis: 400°/s
Tilt axis: 360°/s
Roll axis: 360°/s
Mechanical Endpoint Range
Pan axis control: 360° continuous rotation
Tilt axis control: ±135°
Roll axis control: ±220°
Controlled Rotation Range
Pan axis control: 360° continuous rotation
Tilt axis control: +45° to -135°
Roll axis control: ±45°